Since grey days appear to have set in with permanence, DH and I have come to a mutual agreement that the time has come for us to finish making our home and offices tolerable. This is easier said than done because I am, unfortunately, warped. (DH said 'mad as a hatter' but for the sake of brevity, I'll stick with warped.)
We both decided that while we feel a strong dislike for the hideous built-in black refrigerator and the black counters in the kitchen, we can stand to ignore the ugly bits for a while. The dining room is fine -- and not likely to be improved by random shuffling. Other than the mislaid silverware and the step ladder in front of the fireplace (in these photos), the big room (not the 'great' room ~shudder -- I hate that description) with the sofas and fireplace looks fairly decent.
The guest bedroom, while not likely to appear on the cover of House & Garden, is no longer an embarrassment. For critical decoration purposes, that leaves our bedroom and the offices -- unless I drive DH to the end of his patience and he murders me first (a distinct possibility).
So, we have decided to concentrate first on the office; or rather the offices (plural) since the first step of this concentration required me to stake my claim on a room other than the one we originally designated as the office. The down side of this is that DH painted the walls of the original office in tropical blue and lime green. It's going to just be his office now, so he's stuck with it unless he wants to paint it again (unlikely!). Now, my poor long-suffering husband is painting the walls of the 'new' office -- tropical blue (of course). Alas, no lime green in this one because there's no trim midway up the wall to make a logical dividing line for colours. More's the pity.
The next step will be creating (or buying) a home for my books. The reasons for that should be obvious.
DH says I need to add
Pimp my Cubicle
to my TBR -- so that I'll be in the right frame of mind.
It remains to be seen what frame that is. I am thinking I might need a bright green keyboard to make up for the lack of lime walls.
(Thanks to
Shiny Shiny
.)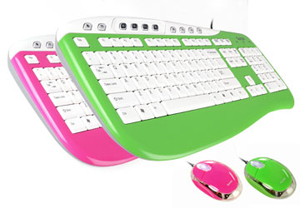 Perhaps I have mentioned it before -- I am married to a patient person. I suspect that's a very Good Thing -- because someday, I may feel a need to 'decorate' the laundry room.